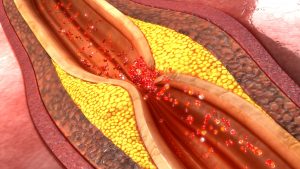 The arteries are the freeways of the body, carrying supplies like nutrients and oxygen to your cells. When they are blocked by plaque, the blood flow is restricted, preventing your body from getting the nutrients and oxygen it needs. Plaque that causes clogged arteries is extremely difficult to remove, so it's best to prevent its build up in the first place.
How does Plaque Happen?
When cholesterol and other materials stick to the walls of veins and arteries, it can begin to restrict the blood flow. The body, sensing a problem, sends out white blood cells to attack the blockages, but this can cause inflammation, leading to even more blockage. If a blockage happens to break free, it can go careening through the blood vessels until it hits a too-narrow space and gets stuck, causing a heart attack. Healthy lifestyle choices can reduce clogged arteries and keep your circulatory system working properly.
Healthy Eating
Reducing cholesterol in your diet is just the beginning. Your diet should be rich in fiber and in the vitamins your heart needs to function effectively. The best way to eat healthy is to remember to include as much color as possible on your plate. Brightly colored, fresh vegetables and fruits are loaded with vitamins and minerals, while dull, bland processed foods tend to be full of fat and salt. Restrict alcohol consumption to no more than one drink a day, and if you smoke, consider enrolling in a cessation program.
Exercise
By maintaining a healthy weight and fitness level, you can reduce the strain on your heart and help it function more effectively. Aim for at least 30 minutes of aerobic exercise at least five days a week. Start slowly if need be. Don't feel pressured to engage in a vigorous exercise program all at once. Build up your tolerance levels to give your body a chance to adjust to the new routine.
If you're ready to begin making some solid changes to your lifestyle to improve your heart health, contact us. We'll be happy to help you design a diet and exercise program that works for your situation.