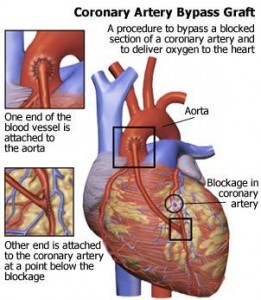 A coronary bypass surgery is necessary when patients have one or both of their coronary arteries blocked. When the arteries are blocked, it means that your heart is not getting enough blood. This affects the rest of your body because your heart is no longer efficient. You may feel tired or have chest pain, or you may have no symptoms at all. Regular check ups can help identify if you or a loved one is suffering from heart disease.
If you're past the point of prevention, surgery may be right for you. There are different options for blocked arteries, including stents or surgery. We believe that stents are not a permanent solution, and recommend going with the permanent fix. We understand the need for research and second opinions. Minimally invasive heart bypass surgery is a great option for many patients, especially old, frail, or otherwise high risk patients.
Why Coronary Heart Bypass Surgery?
In minimally invasive surgery, Dr. Ciuffo makes a tiny 2″ incision in your side and performs the surgery using specialty tools. We are now able to perform a coronary artery bypass while the heart is beating, with no need for a heart lung machine. In expert hands, this technique allows excellent results and a shorter, less complicated postoperative course.
Without the heart lung machine, surgery is much less invasive and simply better for patients. Clinical studies are beginning to show that this technique is associated to much less bleeding and very few patients require transfusions. It is better tolerated by the lungs and kidneys, which is a great advantage in patients with emphysema and/or renal insufficiency. It might also be beneficial in patients that have carotid artery disease (bad circulation to the brain).
It is my personal preference to use this technique in the overwhelming majority of my coronary patients. -Dr. Ciuffo
Read more about minimally invasive coronary artery bypass surgery and see surgical images to better understand your options!
Make An Appointment With Dr. Ciuffo
Whether you are in need of a second opinion or researching minimally invasive options, Dr. Ciuffo can provide you with another option. Call our office at (330) 588-4676 or contact us online. Dr. Ciuffo looks forward to helping you move toward living a better, healthier life.