One of the major benefits of minimally invasive heart surgery is that there are no huge sternotomy scars! Dr. Ciuffo performs his minimally invasive procedures with long, thin surgical tools through a small incision, usually about two inches long. There is no need for massive incisions and broken bones.
Median Sternotomy Scar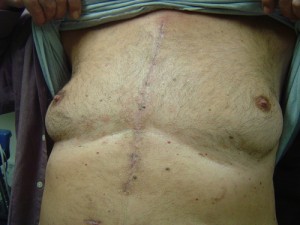 A median sternotomy refers to the surgical procedure that involves a long vertical incision along the sternum, then the sternum is split or cracked so that doctors can get to the heart and lungs. This is used for traditional heart surgeries like the coronary artery bypass, heart valve replacements, and more.
The sternotomy scar usually begins just at the collar bone, and can go almost all the way down to the belly button. It is usually about eight to twelve inches.
The scar can be very hard to cover with low cut or flimsy shirts. In some cases, the unsightly surgical mark is the source of confidence issues.
But…. you can avoid it!!
Minimally Invasive Heart Surgery Scar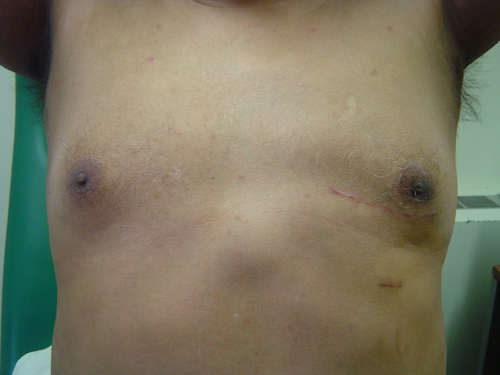 Dr. Ciuffo's minimally invasive heart surgery procedures are sometimes referred to as scarless heart surgeries. He performs the cardiac procedures with long surgical instruments through a small, two inch incision, eliminating the need for the huge scar and broken bones.
Patients can expect a small, two inch scar along the skin crease underneath the breast. With healing, the scar to fade into a barely visible thin white line. This tiny line can be hidden easily under low cut shirts, evening gowns, and the flimsiest of apparel.
For female cardiac patients, the scar is usually hidden under the fold of the breast. This is very similar to the technique used by cosmetic surgeons for breast implant placement.

Looks much better, doesn't it?
Schedule A Consultation With Dr. Ciuffo
If you or a loved one are researching your heart surgery options and do not want a large, unsightly sternotomy scar, get in touch with our minimally invasive heart surgeon, Dr. Ciuffo! We perform minimally invasive procedures each day that save lives without the drawbacks of traditional heart surgery. Call now at (330) 363-1341 or fill out our online contact form to schedule a meeting with Dr. Ciuffo.