It can be confusing to understand the difference between having minimally invasive surgery and having open heart surgery, so if you or your loved one have been told that heart surgery is needed, it's important that you know exactly what that means. Before you have minimally invasive heart surgery in Canton, Ohio, let's review the difference between the two options.
Minimally Invasive Heart Surgery Vs. Open Heart Surgery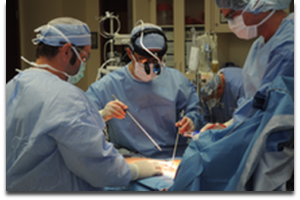 With minimally invasive heart surgery, the surgeon will make the needed number of small incisions in between your ribs. Surgical instruments connected to robotic arms with a camera will be inserted into the incision. This type of robotic surgery will be controlled by the surgeon with a computerized device that allows the doctor to manipulate the instruments to perform your procedure with precision.
Open heart surgery is a surgical cardiac procedure where your chest is surgically opened to correct problems in your:
Arteries
Heart muscle
Valves
Related structures
While your heart may not be "opened" for surgery, typically open heart surgery consists of stopping your heart while a heart-lung machine does its work so that your surgeon can perform the procedure. Open heart surgery requires a 6-8 inch incision in your chest which may involve temporary placement of a pacemaker that will help regulate your heartbeat.
Though each case is unique, open heart surgery is best when the patient needs a complex cardiac operation, complex aortic procedure, or multiple coronary artery bypass procedures.
Is there less pain from a minimally invasive surgery than from an open heart surgery?
Yes. Since minimally invasive heart surgery involves a much smaller incision, there is less pain than having open heart surgery. Having minimally invasive heart surgery in Canton, Ohio also means:
There is less scarring
You will have a shorter stay in the hospital
There is lower risk of bleeding and infection
The recovery time is shorter with minimally invasive surgery than open heart surgery
Our patients usually return home within 2-5 days after the procedure. However, it does take anywhere between 1-4 weeks to recover fully from minimally invasive heart surgery.
If you would like more information about minimally invasive heart surgery in Canton, OH, please contact us so we can respond to your inquiries or concerns.