What Is An Atrial Myxoma?
Atrial myxoma is the most common benign tumor of the heart. While the tumor is benign in that it is not cancerous, it is very dangerous in other ways. The atrial myxoma is a bulky and easily broken apart. If a fragment of the atrial myxoma breaks off, it can travel through the bloodstream to the brain or leg causing life-threatening strokes or death.
If you or a loved one has been diagnosed with an atrial myxoma, it is extremely important that you seek surgery to have it removed. Now it is possible for patients to have this tumor removed without the traditional 10″ chest incision, bone cutting, and extended recovery time. Minimally invasive and bloodless options are available to patients who are suffering from atrial myxoma.
Minimally Invasive Surgery To Remove Atrial Myxoma
Like with all of our minimally invasive procedures, atrial myxoma can be removed through a two-inch incision that is hidden in the fold of skin underneath the breast. We place the incision here as it is between two ribs so there is no need for traumatic bone cutting. Dr. Ciuffo uses long, thin surgical instruments to remove the myxoma through the incision. Learn more about this procedures and the very similar procedure used to repair ASD (includes surgical pictures and video).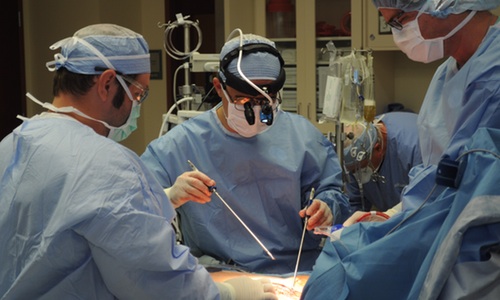 Schedule A Consultation With Dr. Ciuffo
If you or a loved one has been diagnosed with atrial myxoma, it is extremely important to have surgery before the tumor has the chance to break apart and cause devastating problems like stroke, gangrene, or even death. You can have this surgery in a minimally invasive, significantly less traumatic way that traditional open heart surgery. Most of Dr. Ciuffo's patients are out of the hospital within two or three days and back to normal life in just a couple weeks. Contact Dr. Ciuffo online or call our Heart Surgery Center at (330) 588-4676.