Ah, summer. It's a time for pool parties, for popsicles dripping in the heat, for ice-cream and cookouts. And for heart patients, it's often a minefield of parties and gatherings with tables loaded with forbidden treats. Anyone following a heart-healthy diet knows it can be challenging to pass up the goodies in favor of good health. Tired of plain fruit salad replacing "real" dessert on your plate? Here are some heart healthy desserts for the summer that will taste delicious and leave your heart happy and healthy!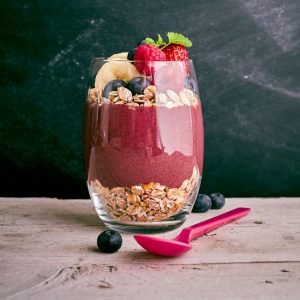 Heart Healthy Desserts For Summer:
Berry Compote
Rich, creamy, and just naturally sweet enough to be pleasing without overwhelming the taste buds with sugar, a compote pairs with a low-sugar frozen yogurt to take it from boring to something to be savored.
To Make:
Combine two cups of berries with 3 tablespoons of water, a scant ¼ cup (or less to taste) of sugar, and 2 tablespoons of lemon juice. Cook one cup of the berries with the other ingredients for 10 minutes over medium heat, stirring frequently. Add the rest of the blueberries and cook for another 5-8 minutes. Serve warm over frozen yogurt or pair with low-fat crepes, and top with low-fat whipped cream for a delicious summer treat.
Strawberry "Ice Cream"
Who doesn't love ice-cream on a hot summer's day? Yet the real stuff is overflowing with sugar, cholesterol, and fat. You can enjoy the flavor without the guilt with this simple, ingenious recipe.
To Make:
Blend in a blender or food processor one pound of frozen strawberries, 1 cup 2% plain Greek yogurt, a scant ¼ cup of sugar, and ¼ teaspoon of vanilla extract. Freeze for about one hour, and serve frozen.
Mexican Chocolate Mousse Dessert
Decadent and rich, chocolate mousse seems like a "never" food on the heart-healthy diet, but a modified recipe that uses tofu as the base provides the flavor without all the fat.
To Make:
Boil ¾ cups of sugar in ¾ cup of water until fully dissolved. Mix the cooled sugar water with 1 pound of silken tofu, 8 ounces of melted semisweet chocolate, 1 teaspoon of vanilla extract, 1 ½ teaspoons of ground cinnamon, and if desired ½ teaspoon of chili powder to taste. Puree all the ingredients in a blender until smooth, and divide into four or six ramekins. Chill for thirty minutes and then serve and enjoy your heart healthy dessert!
If you have any questions regarding your heart health, don't hesitate to contact Dr. Ciuffo's office today! Otherwise, enjoy some of these heart healthy desserts for the summer!