With Thanksgiving right around the corner, many of us are looking forward to desserts, along with gathering with family and friends. It can be more difficult to maintain a heart-healthy diet, with so many rich and varied desserts on the table. With a few adjustments, however, you can enjoy your favorite recipes without loading your plate with high-fat foods. Here are some recipe ideas that will help you eat heart-healthy this Fall.
Sweet Potato Pie
Mix 1 cup of all-purpose flour, ½ cup of whole wheat flour, 2 teaspoons of sugar, ½ teaspoon of salt, 1 half cup of butter substitute, and 4-5 tablespoons of ice water to create the crust. Sift the dry ingredients, then cut the butter substitute in with a pastry cutter. Mix in the water as needed to form dough before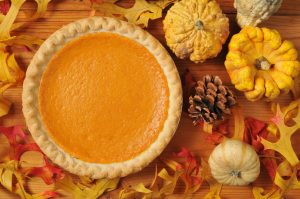 rolling out the crust.
Cut two medium, peeled sweet potatoes into chunks. Boil until fork tender, and drain. Blend the sweet potatoes together with ½ cup coconut milk, 2 eggs, ½ teaspoon of nutmeg, ½ teaspoon of cinnamon, 1 teaspoon of vanilla extract, ½ cup maple syrup, 1 cup granulated sugar, 2 teaspoons of lemon juice, and a pinch of salt. Roll the dough out into a 1/8 inch crust, and lay in a pie plate. Pour the filling into the crust, and bake at 350 degrees Fahrenheit for 45-50 minutes.
Sugar Plums
These sweet, spicy treats are more than a line in a poem and are loaded with antioxidants.
In a food processor, combine ½ cup prunes, 1/3 cup dried apricots, and process until well blended. Add 2/3 cup shelled walnuts, ¼ cup dried cranberries, 1 teaspoon orange zest, 1/3 cup honey, and mix until well blended. Finally, add 1 teaspoon vanilla extract, ½ teaspoon cinnamon, ¼ teaspoon nutmeg, ¼ teaspoon coriander, ¼ teaspoon of sea salt, ½ teaspoon flour or cornstarch. Mix well, and refrigerate for 30 minutes, before forming into 1-inch balls. Roll in sugar just before serving.
Pumpkin Spice Ice-Cream
Combine 1 14 ounce can of coconut milk, 1 cup unsweetened almond milk, 1 teaspoon vanilla extract, 1 teaspoon cinnamon, ½ teaspoon ground nutmeg, ¼ teaspoon ground cloves, 2/4 cup cane sugar, and 1 ¼ cup pumpkin puree, and 1-2 tablespoons of vodka (optional- to prevent the ice-cream from becoming too hard in the freezer. Alternatively, leave out the vodka and allow the ice-cream to thaw for 20 minutes before serving.) Mix well, and pour ingredients into your ice-cream maker for a delicious treat.