Having invasive surgery for a heart valve replacement is sometimes necessary, but it doesn't have to be. Open heart surgery is a major operation and requires a hospital stay of at least a week, with part of that in the intensive care unit in most cases. Depending on your age, general health, and how severely damaged or faulty your heart valves are, invasive surgery may not be necessary. Although studies have shown that the heart valve replacement surgery survival rate is very high, there are other less invasive treatments for valve repair or replacement, such as minimally invasive aortic valve replacement or minimally invasive mitral valve repair.
Minimally Invasive Aortic Valve Replacement
Aortic Stenosis (AS) is a heart disease affecting the aortic valve. This valve is responsible for pumping oxygenated blood to all parts of the body. With AS, the aortic valve is too narrow, causing a very high internal pressure due to the heart working extra hard to pump blood through it. This pressure triggers the cardiac muscle to thicken to increase its strength, and eventually tires out and results in a life-threatening condition.
The majority of patients with AS, with or without symptoms present, need to have minimally invasive aortic valve replacement to replace the defective valve with a new mechanical or biological heart valve prosthesis. If there has been a diagnosis of severe AS, even if symptoms are not present, patients should be evaluated as soon as possible for surgical intervention. Clinical evidence shows that delaying surgery is dangerous.
Severe symptomatic aortic valve stenosis is a lethal condition that requires effective aortic valve replacement. No other medical treatment exists for this condition and, without surgery, 75% of patients will die within 3 years of being symptomatic.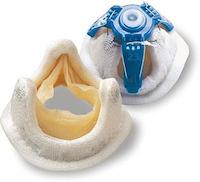 Minimally Invasive Mitral Valve Repair
Mitral Valve Disease occurs when either one or both of the following malfunctions or deformities occur:
Mitral Valve Regurgitation or Insufficiency (Leaky Mitral Valve), which is often a result of Mitral Valve Prolapse (MVP)

Mitral Valve Stenosis (Tight or Clogged Mitral Valve)
Many times, a defective mitral valve can be repaired, as opposed to replaced. In these cases, there is no need for blood thinners and the chance of embolic events, such as a stroke, are diminished. If mitral valve replacement is necessary, there is a higher risk of embolic events.
As with aortic stenosis, patients with severe symptomatic mitral insufficiency should not delay speaking with a surgeon. It is very possible that the heart will tire out and irreversible damage will occur if mitral valve repair is not performed. This procedure involves minimal pain and a short recovery time. Most patients are able to return home within 2 or 3 days.
Contact Dr. Ciuffo
Severe Aortic Stenosis (AS) and Mitral Valve Insufficiency and Stenosis are serious heart conditions that can be life-threatening without minimally invasive techniques to prevent further valve damage. If you are concerned about symptoms that could be related to a heart condition, it is very important to speak with a surgeon as soon as possible. Ciuffio Heart Surgery is available to consult with you about any concerns.