As we age, we all worry about what the news doctor might deliver, especially about the heart. When your doctor hands you a terrible diagnosis, giving you the seemingly life-sealing fate of simply living with your "inoperable aortic valve" condition, it can seem like the end of the world. But, as Dr. Ciuffo has described in detail throughout his website, "inoperable" is typically more descriptive of the traditional heart surgery methods, rather than your heart's ability to be operated on.
Get A Second Opinion For An Inoperable Aortic Valve Diagnosis Now!
It is extremely important to your health to get a second opinion, especially in such a sensitive and life-threatening area. Dr. Ciuffo has been using the most cutting edge technology with his extensive experience to perform successful, minimally invasive heart surgery procedures for "high risk" and "inoperable" heart surgery patients. Read Gwen's success story, the "inoperable" patient with lung cancer in her 70s who Dr. Ciuffo performed a successful aortic valve replacement on and who recovered quickly to enjoy many more years living life to the fullest with her family.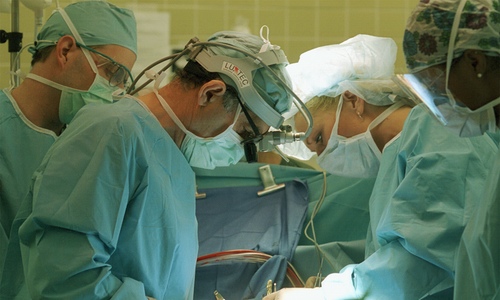 Inoperable Aortic Valve Condition Becomes Operable
The minimally invasive aortic valve procedures performed by Dr. Ciuffo are an amazing options for patients who have previously been told their heart condition is inoperable. Minimally invasive procedures are performed through a small two inch incision between the rids, eliminating the need for breaking bones, the heart-lung machine, or blood transfusions that are typically needed in traditional heart surgery methods. Read patient testimonials to get a better idea of Dr. Ciuffo's surgical expertise and how it works.
First Steps After Diagnosis
After you receive a high risk or inoperable diagnosis, always keep in mind that different doctors have different experience and use different options with high risk cases, and a second opinion with an expert like Dr. Ciuffo can make all the difference.
ASK WHY – "An expert in heart risk heart surgery can evaluate each case and handle the risk factors involved with techniques that may not be available locally. -Dr. Ciuffo"
ASK ABOUT YOUR CHANCES WITHOUT SURGERY – "Some surgeons fail to tell you that doing nothing about the "inoperable" condition is much riskier than the actual surgery. -Dr. Ciuffo"
GET COPIES OF YOUR MEDICAL REPORT & IMAGING STUDIES
For more information about why your doctor may have said your condition was inoperable and Dr. Ciuffo's explanations of how we can work around that diagnosis on our Inoperable Aortic Stenosis page.