Dr. Giovanni Ciuffo is an expert minimally invasive heart surgeon who treats "inoperable," high-risk, and special needs cardiac patients every day. Many people who have received concerning diagnoses from their regular cardiologists do online research to find expert heart surgeons for a second opinion of their diagnosis or other options to surgery. If this is you, then you've come to the right place.
Heart Surgeon Dr. Ciuffo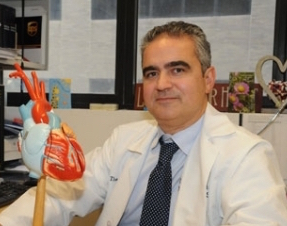 Dr. Ciuffo practices and performs the full range of the most advanced minimally invasive and bloodless options and procedures in modern heart surgery, with patients traveling across the globe for his expertise. His expertise is the result of a career dedicated to the development and improvement of these techniques.
Dr. Ciuffo is board certified by the American Board of Surgery and the American Board of Thoracic Surgery. He is also a member of the Society of Thoracic Surgeons. His current academic and clinical activity is entirely devoted to the surgical therapy of coronary, valvular and thoracic aortic disease with the most advanced blood sparing, minimally invasive and beating heart surgery techniques.
Get A Second Opinion On Your Heart Condition
If you or a loved one are researching the benefits of minimally invasive heart surgery or in need of a second opinion after an "inoperable" diagnosis, Dr. Ciuffo can help. Call now at (330) 363-1341 or fill out our online contact form.