If a patient is diagnosed with moderate-to-severe aortic valve stenosis, no matter how elderly or frail, the patient must undergo replacement surgery to avoid death in a matter of months. Aortic valve stenosis is a deadly disease that requires immediate attention. 
Severe symptomatic aortic valve stenosis is a lethal condition that needs effective mechanical relief in the form of aortic valve replacement. There is no other medical treatment for this disease. Some doctors avoid this surgery for elderly and frail patients, but this is the worst possible course of action. Without aortic valve surgery, three-quarters of these patients will die within three years of symptom onset (shown in graph 1).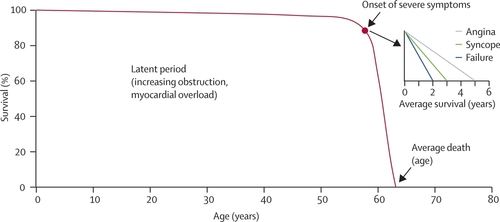 The following graph shows the life expectancy of patients who undergo replacement surgery (blue line) versus the survival rate of patients who do not have surgery (red line). As you can clearly see, surgery is the right course of action.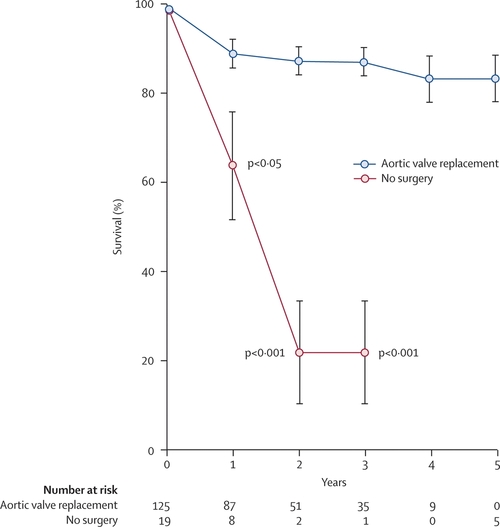 The life expectancy of patients with aortic valve stenosis who undergo an aortic valve replacement is the same as any patient of the same age that has never be affected by aortic valve disease.
Minimally Invasive Aortic Valve Replacement For Frail Patients
A well-meaning relative will ask: "Isn't Grandma too old and frail to withstand open heart surgery?"
Dr. Ciuffo's answer will always be: "No. Grandma is too old and frail to withstand severe aortic valve stenosis. Let me show the statistics on this condition!!!"
The way Dr. Ciuffo performs a minimally invasive aortic valve replacement has dramatically changed the impact of this operation on the overall patient's experience and on the speed of recovery. Most patients, even the elderly and frail, will be able to return to their families and normal lives two or three days after surgery, with a much better chance of living many more happy years.